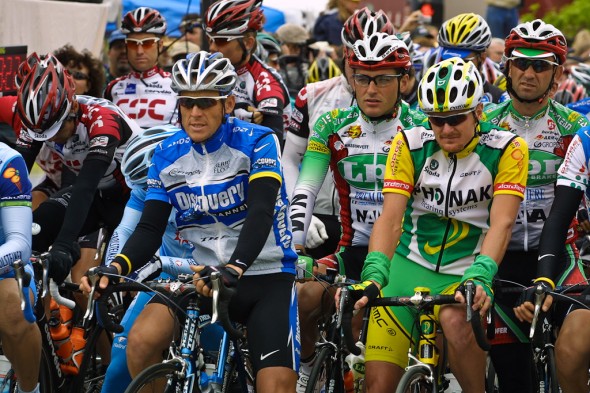 Lance Armstrong has just announced his retirement from professional cycling days earlier at a press conference in Augusta, GA. before the defense of his 2004 Dodge Tour de Georgia championship. It's April 2005 and the sports and cycling worlds are abuzz about Armstrong's pursuit of a seventh consecutive Tour de France crown. Forget all that we know now. It's then and Armstrong's teams (both legal and cycling) are doing an amazing job at deflecting and covering up what will become the sport's biggest scandals. We all know how this will turn out but in 2005, the entire nation is swept up in Lancemania and the belief that he can do no wrong.
Even then the accusations of doping were swirling around Armstrong from cycling writers (namely David Walsh) to former teammates but none of that matters. They're all rumors and nothing but a distraction for the American cyclist in pursuit of becoming the sport's biggest name. What does matter is his focus on winning a seventh straight Tour de France, using the 2005 Dodge Tour de Georgia as a training tool and bringing international media attention to his sponsor Vikao.net and the state of Georgia.
Kicking off my second year of covering the Tour, I felt confident knowing I had paid my dues and learned how to cover a professional stage race the year before. But this year was different. Armstrong's retirement announcement and relationship with singer Sheryl Crow, Tyler Hamilton's suspension from cycling for doping and the very public break up of Lance Armstrong and Floyd Landis, who left to take control of the Swiss based team Phonak, created a 500 strong media scrum, making my job more difficult than I could ever imagine.
That year was difficult to find an angle or coverage that hadn't already been done. I was constantly receiving calls and emails from my photo editor about creating unique angles and finding new stories to tell visually. But everywhere I went, there was already a photographer snapping away or setting up some contrived scenario.
The biggest story going was Armstrong and Landis and I knew I had to get something different. The old teammates were now locked in a battle for the lead with Landis having secured the leader jersey during the time trial in stage three and struggling to hold on. The rumors flying around the peloton and media corp was that Armstrong was bitter and vowed to knock Floyd off, during a climbing stage no less. The morning started out with a set up, shake hands for the press pic which was a bit boring and I could tell that Lance and Floyd were hamming it up for the camera. Given the fact that I heard a very irate Armstrong yelling at the rest of the Discovery team while riding in the team car the day before, I knew I needed an image that showed the tension between the old teammates turned rivals not a grip and grin. Shortly after the set up, made for media photo op had passed, (which I missed due to the fact that I was prepping my gear for a ride on the photo moto) the two resumed their normal dislike for each other. While the rest of the media were being shuffled to the van or escorted to their motos, I lingered behind watching, waiting and cursing my bad timing, hoping for another chance to snap an image of the two interacting with each other. I knew if I didn't come back with something unique I'd certainly hear about it from my editor.
As luck would have it my moto driver that day was none other the safety captain who afforded me the luxury of taking off behind the peloton and linger around the start. As the media disappeared, the two resumed their pre-race routines and this image appeared moments before the start of stage 5.
I think it really sums up their situation and feelings towards each other. And so did writer David Walsh and his publisher Ballantine Books, who chose this image for the cover of his book. From Lance to Landis, Inside the American Doping Controversy at the Tour De France puts an immense amount of circumstantial evidence and the infamous instant message exchange between Jonathan Vaughters and Frankie Andreu in front of an American audience for the first time in 2007.
Armstrong forward and grimaced; Landis slouched and dejected as if he knew how the day would turn out, proved to be the winner of the day.