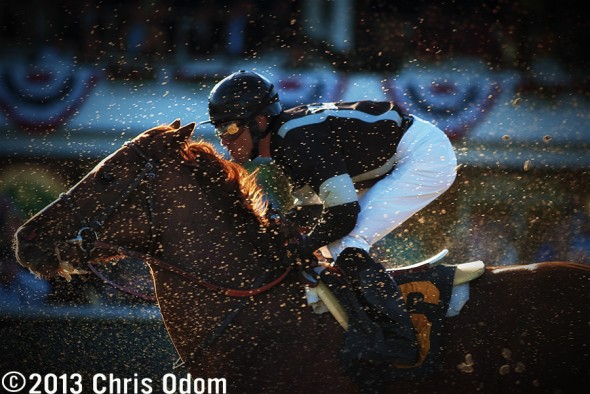 In late January of 2010 I was contacted by ESPN.com to continue covering what was then the beginnings of the feel-good story of horse racing that year. Enter Uptowncharlybrown, a two year old American thoroughbred on the Kentucky Derby trail and seeking a berth in the 2010 Triple Crown of Thoroughbred Racing.
Uptowncharlybrown owned by Fantasy Lane Stable, is similar to the hundreds of other racing partnerships-invest some money, buy low and sell high. But what's different at Fantasy Lane is the investment. Unlike traditional stable partnerships mostly reserved for the wealthy, partners at Fantasy Lane Stables are normal people and most have only invested $5,000 or less.
Bob Hutt bought Uptowncharlybrown for $57,000 in 2009 at a 2 year old sale in Ocala, FL. $57K is not a large sum of money and most wouldn't expect much for that price. But Hutt and Fantasy Lane Stables trainer Alan Seewald quickly realized that "Charly" was anything but ordinary. Charly made his debut on Dec. 26 at Tampa Bay Downs, winning his race, a 6.5 furlong sprint, by 9 lengths. On his second race three weeks later, the 7 furlong Pasco Stakes, he won by 6 lengths. 2 races, 2 wins. The future was looking bright indeed.
This is the point at which I get involved. Bill Finley, a horse racing beat writer for ESPN.com wrote a piece on Uptowncharlybrown and Fantasy Lane Stable's hopes for the upcoming Sam F Davis Stakes at Tampa Bay Downs (original story can be found here). Accordingly, should Charly win the Davis Stakes, the offers to buy the then 3 year old colt would come pouring in, no doubt. And in turn change the original $57,000 investment into something in the 7 figure range. And ESPN.com wanted a follow up. Besides, they already had the scoop…
So off I go to the track, research in hand, prepared to cover an exciting story. The atmosphere was festive and the Fantasy Lane Stable stakeholders were quite jovial, giddy almost. The constant chatter heard around the paddock that day was in response to the million dollar question: "If Charly wins, should we sell?"
Unfortunately, Uptowncharlybrown suffered his first loss that day, placing third behind Rule and Schoolyard Dream by 2 and 3/4 lengths. The drama it seemed, was over that day. But not before I snapped this image as Charly screamed by the grandstand.
Side note: My editor was thrilled with my images from that day. He said they captured all that horse racing meant to him-tension, drama, and color. He would go on to recommend a similar image for inclusion in the 2011 Media Eclipse Awards. Though I was thoroughly excited and believing I was the hopeful (according to my editor, not me!) photography award winner, it wasn't meant to be.